NETBALL NI at World Netball Congress by Netball NI Executive Manager, Karen Rollo
10th August 2023
World Netball Congress is traditionally held once every two years, coinciding with the World Cup and the World Youth Cup; the two major competition events hosted by World Netball in the four year cycle and where many of the member nations are already in attendance.
Netball NI were represented at World Netball Congress by Chair of the Netball NI Board, Helen Stirling and Executive Manager, Karen Rollo. Northern Ireland also held the proxy vote for our neighbours, Ireland Netball.
World Netball Congress is a face to face formal meeting of the members of World Netball where the World Netball Board and secretariate report on the operational and strategic objectives of the business and where key decisions are discussed and voted on by the membership.=
These include; elected members of the World Netball Board, financial management, rules of the game, strategic direction, event locations etc. Sitting within the Europe Netball region, it's important to represent the views and opinions that will not only support Northern Ireland in our growth and performance, but also that of our region as we collaborate to build a solid and sustainable structure for our sport to reach new participation and performance heights.
World Netball Congress Highlights
1.    Reconnecting with those who do our roles across the world, sharing highlights and positive steps within each of our businesses and being able to offer and receive support around the challenges we are facing, which more often than not are actually very similar, if on differing scales.
2.    Being selected as a 'go to' country to support World Netball as they launch and work through the role and remit of their charitable arm and foundation. Netball NI have been a front runner in this aspect having gone through this process following our governance review in 2014.
3.    Advancing our collective performance aims with the Home Nations and creating an operational plan to deliver a new competition series with a clear event strategy and purpose to be realised.
4.    Commercial meeting with key partners as we seek to grow our profile and market value products
5.    Re-election of Dame Liz Nicolas President of World Netball for another 4 years.
6.    Being witness to and hearing the stories of the Service Award Winners with their astounding commitment and dedication to multiple roles within our sport.
7.    Seeing the joy our sport brings to so many and the lifelong friendships that have been built across athletes, coaches, administrators and officials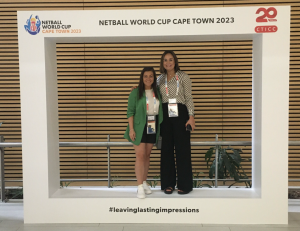 Changes within World Netball
1.    Previous online Congress members voted to amend the articles to enable more independence on the World Netball Board. This Congress saw the approval of 2 recruited Board members, in the Finance and Athlete Director roles, Suri Bartlett and Stacey Francis-Bayman respectively.
2.    Rules changes  – Following a 12 month consultation process the WN Rules Advisory Panel presented proposed changes to Congress, which following an additional meeting outside of Congress for further clarity, were voted in favour by members.
3.    Launch of Foundation – experienced and knowledgeable trustees were recruited who launched the foundation and have begun consultation with members to determine needs and support available.
4.    Change to bid process for major events.
5.    CEO is beginning process to recruit successor after 10 years in post.
Cape Town Highlights
A full day of travelling to get there is totally worth it! A vibrant, multicultural city that fully embraced hosting the World Cup, the people were friendly and extremely welcoming.
From Table Mountain to the Waterfront with Robben Island, Vineyards to Game Drives, the city and its suburbs, offer a host of activities that are affordable for visitors and give insight to the history of the region.
Having visited in the South African Winter, it was pretty chilly and wet, but thankfully on the day we took the Cable Car to the top of Table Mountain, there were clear skies and we got to experience the amazing panoramic views of the city and marina landscape below.
A trip to be remembered and one I hope to take again.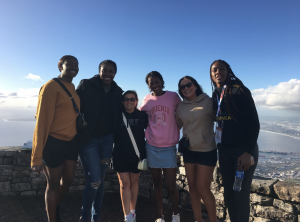 World Cup Competition Highlights
In a stadium of 5000 seats, the compact nature only enhanced the atmosphere in the main arena, which when an African team was playing took the noise to another level! Barely a seat sat in throughout those matches with singing, dancing and cheering at every pass.
Widely promoted as the most open WC for years, it really did not disappoint and while we have ultimately seen Australia take another title, the disappointment felt by those who ran them close, shows just how far the sport has come. With the largest broadcast deal for any netball event, the performances of the teams on court delivered the calibre and contest the viewers were hoping for and it was a privilege to see these athletes perform at their peak.
Next up, is the World Youth Cup being held in Gibraltar in 2025 when we hope to be cheering our NI U21's!
In summary, World Netball Congress, like many clubs and indeed our own AGM, can be admin heavy and appear daunting with so many people in the room that you are not quite sure how things will go – but one thing that happens in all our settings, the people present love our sport and are passionate about driving it forward and helping others to see and experience all the things we love about our game.
It is hugely empowering and rewarding to be surrounded by people from all over the world who value what we all do and understand the various situations we all find ourselves in whether they be positive or challenging! Each of us have a network we call our own 'Netball Family', World Congress is absolutely an extension of that and a valuable one that Netball Northern Ireland will continue to attend, both to support their work and voice opinions on matters that impact us and the place of our sport in NI and the World platform.